You found it.
Imagine enjoying amazing views of Alaska's Inside Passage from a clean, comfortable boat while experiencing Ketchikan's world-famous salmon fishing with your own private fishing guide.
Not just a fishing story…

an ALASKAN fishing story!
With Alaska Strike Zone, you'll have the chance to do some serious fishing. We book only private charters, so your group will have the guide's full attention.
You get to use our selection of professional fishing gear, bait and tackle that we've chosen and perfected over countless hours of sportfishing.
Relax outside on the fishing platform or in the spacious cabin while you breathe the clean marine air and watch ocean birds thriving in their element. Enjoy Alaska.
Book a charter with us and see why Ketchikan is the salmon fishing capital of the world.
Book Your Salmon Charter Now
You'll benefit from the local knowledge & extensive experience of our professional fishing guides.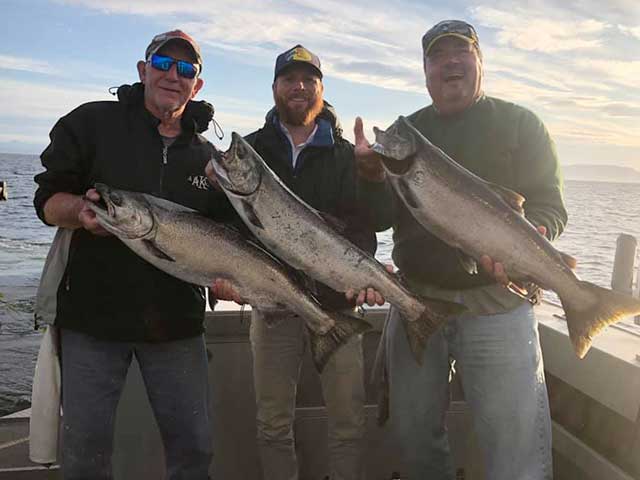 Depending on the time of year you'll get to fish for King, Coho, Pink, or Sockeye Salmon.
Our 28-foot boats offer a spacious fishing deck, comfortable cabins, and private toilets.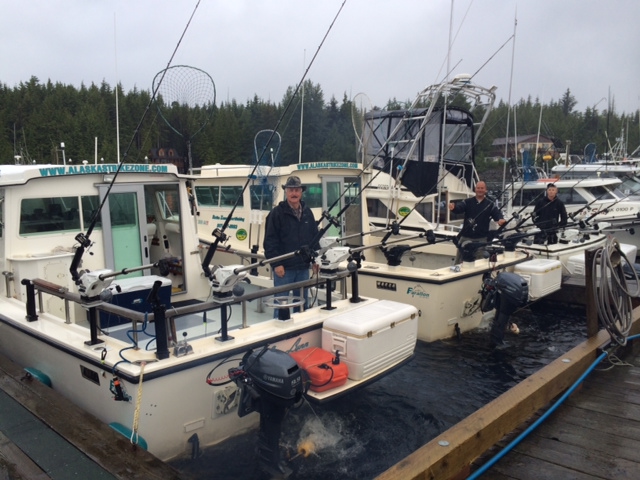 Our boats are equipped with the best gear and electronics to help you catch your own Alaskan salmon.
It's More Than Fishing… it's Alaska
As you fish for salmon, keep an eye out for bald eagles, seals, sea lions, porpoises, whales, and more. There is nothing like fishing in Alaska.
Best fishing charter experience I have ever had. I've fished all over the country and this was one of my most memorable.

– Matthew B. (Facebook)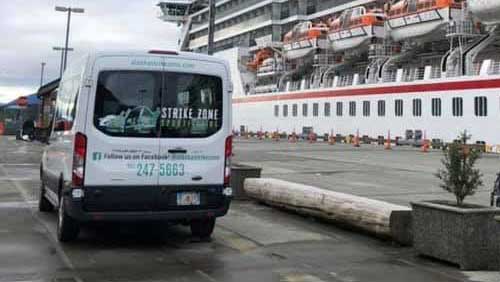 We Make It Easy
We believe getting to and from your charter should be an easy, stress-free experience. No need to worry about a taxi, just schedule a shuttle when you book with us.
We'll pick you up right from the docks in town and drive you to the start of your fishing experience in Knudson Cove Marina.
Customer Testimonials

Our family of 4 had a fantastic fishing experience. TJ and Jan worked really hard to help us catch the salmon we did. They taught us what to do and were patient and helpful.
We each had several turns to catch salmon and each of us was able to keep 2 delicious salmon. This was a great experience, and I would recommend Alaska Strike Zone Sportfishing for anyone traveling to Ketchican, Alaska who loves to catch fish!
This really was one of the best things we did on our Alaskan cruise. There were 4 of us on the boat and we caught 6 Silver Salmon and a Pink Salmon. Our captain made the experience relaxing and successful. I would highly recommend Alaska Strike zone to anyone wanting a good time fishing!
Don't Miss Out – Book Today
Alaska Strike Zone Sportfishing is one of the best-known and highest rated fishing charter in Ketchikan. Spots fill up quickly!
Reserve your spot today to be sure your vacation includes a dream Alaskan fishing charter experience with our amazing crew.
Book Your Salmon Charter Now