Ketchikan is famous for its fishing, but it also has some great places to eat. For such a small town, there are plenty of dining establishments around Ketchikan where both visitors and locals can get a taste of everything from fine dining, to classic American burgers.
Here are six of our favorite food experiences around Ketchikan. There is no order of preference as each establishment has its own unique take on dining.
Burger Queen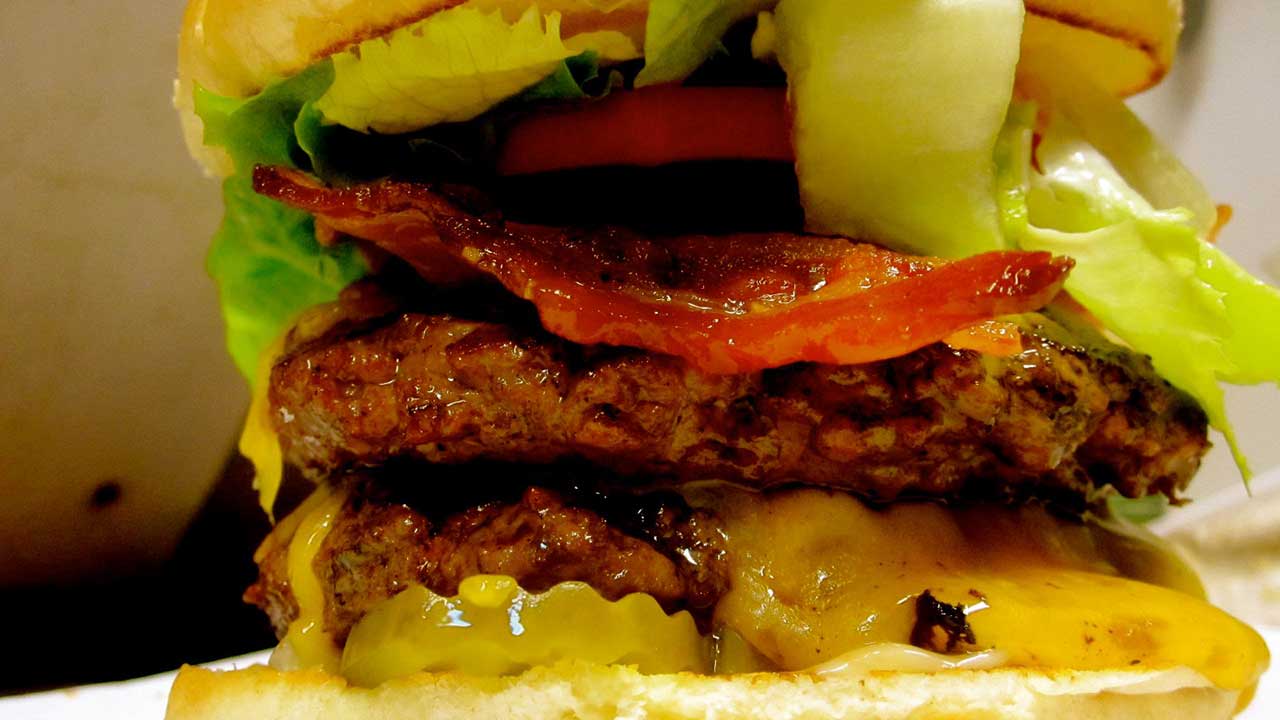 Ketchikan's Burger Queen is a local favorite, so expect it to be very busy if you show up right on lunchtime. If you're not afraid of a queue, you'll soon be enjoying a burger that is worth the wait, or you could turn up early and skip the rush hour. They also now have a free delivery service.
Take your pick from 10 different varieties of burger, from calorie-laden American Classics to tasty Polish sausage. Calorie counters and dieters are also welcome at Burger Queen, as there are also a few tasty low-cal treats featured on the menu.
A milkshake is all part of the experience at Burger Queen. Classic flavors like chocolate and vanilla are available, but you can also try the Kahlua, or pumpkin pie for something different.
Reviews are mostly positive for this small but busy establishment. If you're not in the mood for a milkshake but still need to satisfy your thirst, try this popular strategy used by many of the reviewers on Trip Advisor; enjoy a brew at the Arctic Bar, and have your burger delivered, it's the best of both worlds.
Burger Queen is an experience unique to Ketchikan that you won't get anywhere else in the world. Head through the tunnel, it's right next door to The Asylum.
Located at: 518 Water St, Ketchikan, Alaska 99901
On the web at: www.facebook.com/pages/category/Burger-Restaurant/Burger-Queen
Annabelle's Famous Keg & Chowder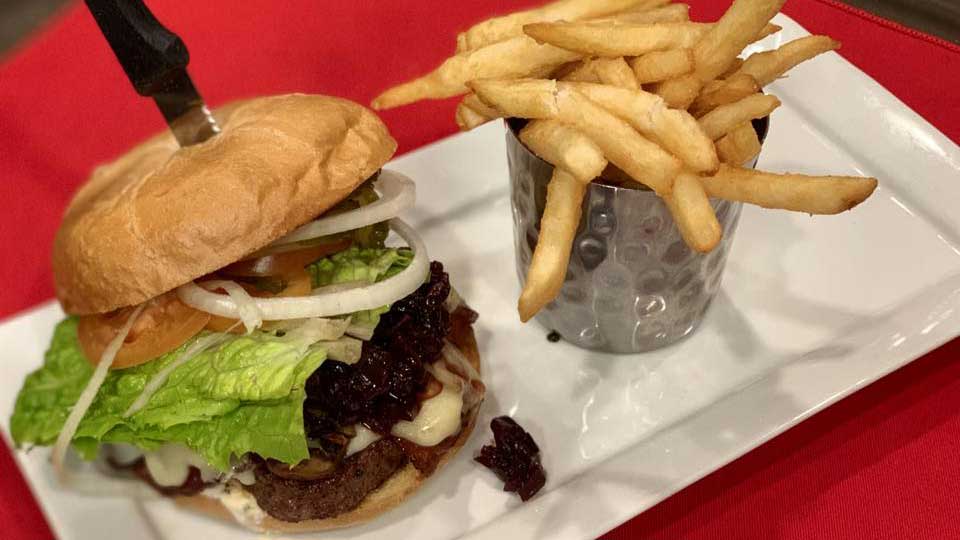 Annabelle's Famous Keg & Chowder is well-known for its fresh Alaskan Seafood. Fresh Salmon, Halibut, and King Crab all feature on the menu. The home-style cooking and generous servings offer excellent value, with lunch and dinner served daily.
Immerse yourself in the old-time feel of this historic sailor's inn, which offers both casual and fine dining opportunities. A fully stocked bar provides ample choice for a refreshing toddy break with local beers from the Alaskan Brewing Company, bloody Mary's created with homemade pepper vodka, or a nice glass of red or white.
Out of more than 1,000 reviews on Annabelle's, there's barely a bad word mentioned. Most reviewers appreciate the cozy atmosphere as the perfect place to while away the afternoon while enjoying the view.
Location: 326 Front Street, Ketchikan, AK 99901
On the web at: annabellesketchikan.com
Pioneer Pantry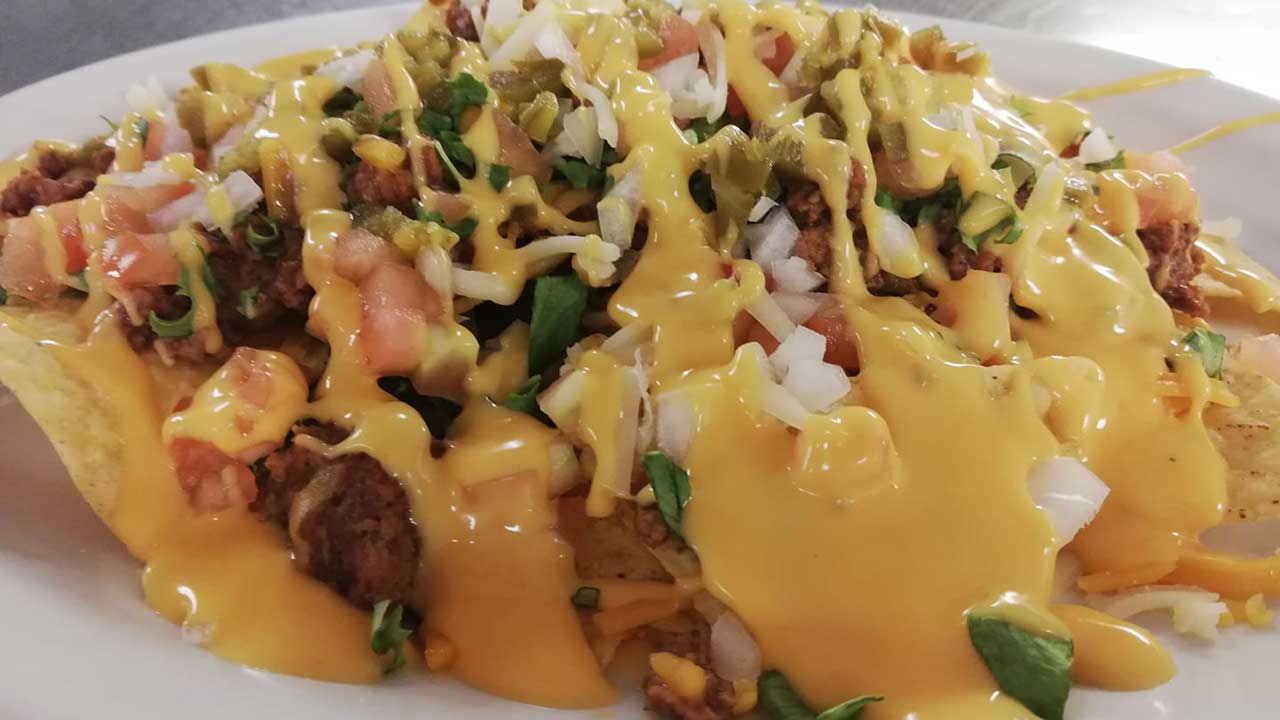 Pioneer Pantry attracts a lot of hardworking locals, from fisherman to loggers and construction workers. Don't overdress for the occasion as this is a true working man's restaurant.
Some of the meals available at the Pantry include Berry Medley Stuffed French Toast, Chicken and Bacon Ranch Grilled cheese sandwich, bacon and egg muffin with salad and chips, or a Mac 'n Cheese Burger.
The Pioneer Pantry is much loved by residents of Ketchikan, who all speak highly of its 76-year legacy. It's also one of the best locations to immerse yourself into Ketchikan culture fully, so don't be surprised if you get drawn into a lively conversation about fishing.
There aren't too many reviewers for the Pioneer Café, but their Facebook page is alive and well and worth checking out. The photos of their latest creations are sure to get your mouth watering.
Most reviews are positive, with many reviewers appreciating a short walk to the restaurant after arriving by cruise ship.
Make sure you visit on an empty stomach, as the portions are more on the side of generous to huge.
Location at: 619 Mission St, Ketchikan, Alaska 99901
On the web at: facebook.com/PioneerCafeKetchikan
Cape Fox Restaurant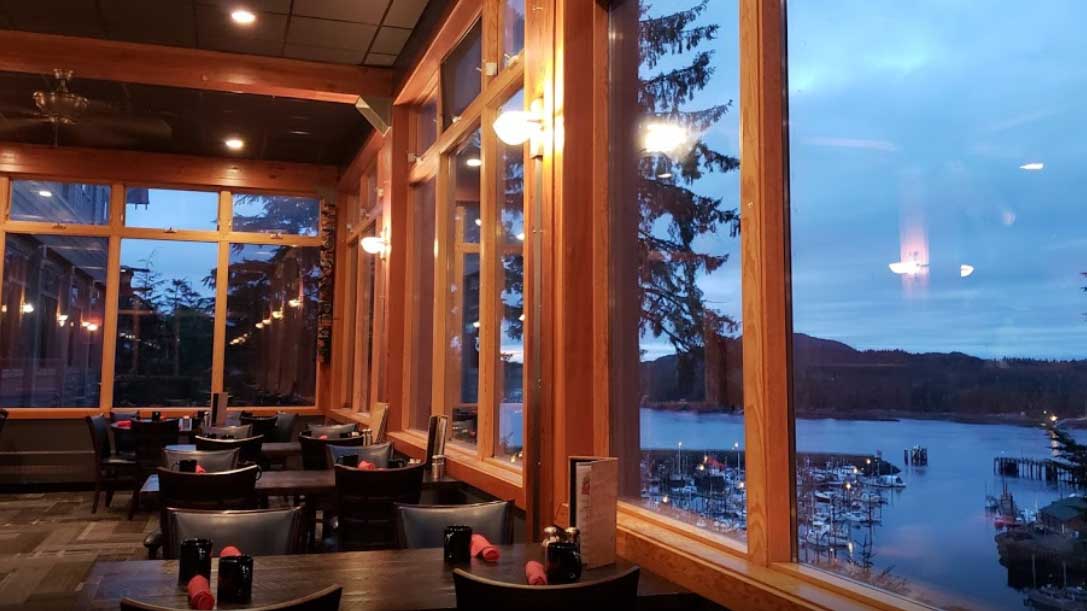 It's fine dining all the way at Cape Fox Lodge. The restaurant opens early and caters for breakfast lunch and dinner. Enjoy Eggs Benedict in the morning, Halibut and Pesto Flatbread for lunch, and bacon wrapped stuff prawns for dinner. The interior is brightly lit with large windows providing an amazing view.
Visit the Heen Kahidi lounge if you are in the mood for music and dancing, or enjoying the monthly drink special while soaking up the warmth of the fireplace. If the monthly special isn't to your liking, you also have a large selection of beers, wines, and spirits from which to choose.
Reviewers generally have a good time at Cape Fox Restaurant, with many recommending the friendly, laid back staff who are always willing to enjoy a conversation with their patrons. According to coffee lovers, the hot mocha is pretty good too.
Location at:  800 Venetia Ave, Ketchikan, AK 99901
On the web at: capefoxlodge.com
Alaska King Crab Co.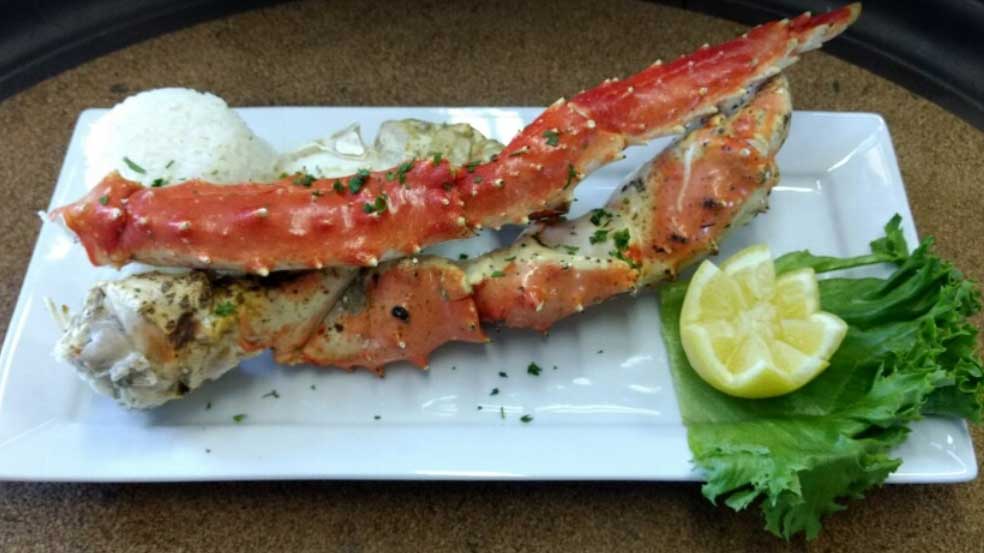 The Alaska King Crab Co. emphasizes its delivery service, but if you head upstairs, you will find a cozy little dine-in restaurant.
All of King Crab Co's fare are created from a selection of king crab and other seasonal seafood sourced fresh through their network of trusted experts, and every meal is made with a focus on texture, taste, and quality.
King crabs are cooked to perfection and flash frozen to lock in the flavor. Thaw out overnight, reheat and enjoy. You can't get much fresher than straight from the sea to the table, but that's what you get at King Crab whether you dine in or choose home delivery.
It's not all about seafood though, as you can also savor USDA prime Fillet Mignon fresh from Market House to your door, and ready to cook how you like it.
Reviews for Alaska King Crab are a mixed affair, but most rate it very well. Many out-of-towners enjoy the cozy atmosphere, friendly staff, and the magnificent views of the harbor offered by the small restaurant.
Location at: 76 Front St, Ketchikan, AK 99901
On the web at: alaskankingcrab.com
The Landing Restaurant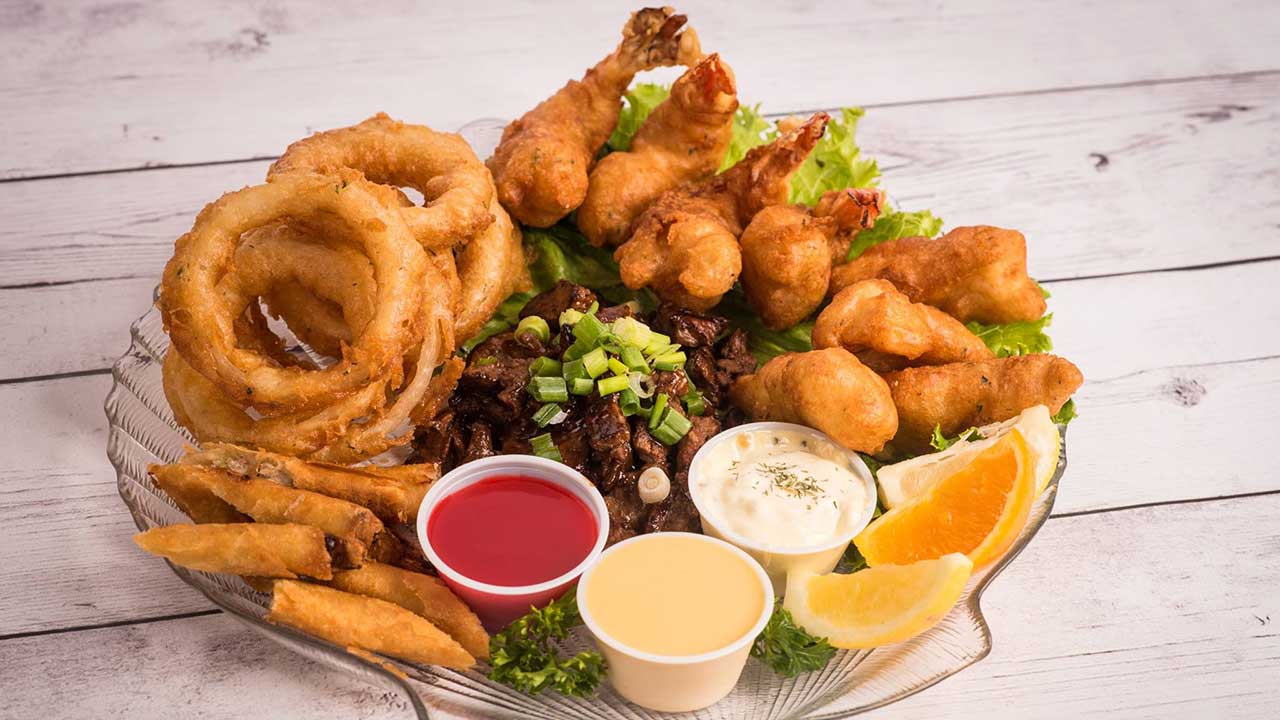 The Landing Restaurant is reminiscent of the classic American diner, complete with swivel chairs and countertops.
You can get an early start to the day as doors open at 6:00 a.m. You can't miss breakfast though, because it's served all day.
Other specialties you will find on the menu are charbroiled burgers, wild Alaskan seafood, hand-dipped milkshakes, and highly-regarded espresso for your morning wakeup call.
Reviewers have made many positive comments about the friendly atmosphere, great food, and The Landing Restaurant's excellent skills in clam chowder.
If you're staying in the hotel, you'll also benefit from the cheaper menu rates for guests.
Location at: 3434 Tongass Avenue, Ketchikan, Alaska 99901
On the web at: landinghotel.com/dining
We hope you enjoy your visit to Ketchikan. If you are taking a fishing charter with us we look forward to seeing you. But even if your just walking the docks, feel free to stop in and say "hello".